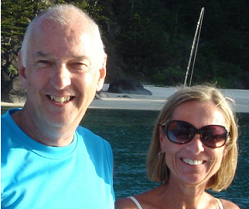 The opening of specialist IT hub in Greytown couldn't have come at a better time. South Wairarapa Computer Services brings a wide range of integrated services for those needing anything from installation of home entertainment technology through to full office infrastructure set-up and web design.
Owners John and Vicki Rennie opened the doors on June 29, 2013 and they have partnered up with specialist providers in the area to bring a complete range of services. They look forward to supplying their customers with all their computer needs from the front of 2 Haswell Street, Greytown.
John is managing the business and he has a background in IT spanning 35 years, most recently coming from working as technical support for Payroll and HR systems at the ANZ Bank. A keen sportsman, John has played and coached provincial hockey. He now plays golf when time permits. John is often seen driving around Greytown in his 'blue' ute with his black labs, Max and Zoe, in the front seat beside him.
"We can provide all your computer servicing needs from a tune-up and clean, through to a full build and install for your specific needs," says John.
South Wairarapa Computer Services are located in their office opposite The White Swan Hotel. This includes a small retail space and a workshop. In the name of bringing together a wide range of IT services that local people might need, John says they have also formed a relationship with Lamb Peters Print so that clients will have access to all their printing services to complete the package.
South Wairarapa Computer Services Support the Local Greytown Volunteer Fire Brigade